The Rolex President Bracelet
The Rolex Presidential bracelet is most known for appearing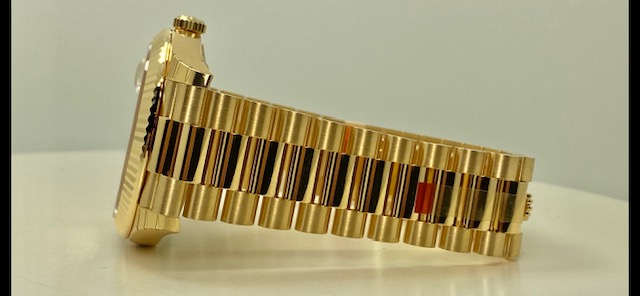 on the Rolex Day-Date. Created in 1956 for the Perpetual Day-Date, the Presidential bracelet was designed with prestige in mind.
Made of 18k gold or platinum and crafted with the unique Crownclasp, the Rolex Presidential bracelet is the perfect addition to the Day-Date Rolex as well as several Lady Datejust models. The band's high quality design is immediately evident, and the clasp becomes virtually invisible, leaving a seamless and unbroken design.
Find Your Rolex Presidential Bracelet
Whether you're looking for the Rolex Perpetual Day-Date or a specific version of the Lady Datejust, find your perfect Rolex, featuring the Presidential bracelet, on TopNotch Watch. Our dedicated staff will answer any questions you have while you browse our online catalog. Or, they can help locate the exact Rolex you want.
Get Your Used Rolex Sent Right to Your Door
You don't have to be in the Buffalo, NY, area to visit our physical showroom to get a high-quality, used Rolex. Browse the widest selection of certified, used Rolex that you'll find anywhere online, and get the luxury watch you've been looking for sent right to your door in protective packaging.